How Much Does it Cost To Have The Carpet Steam Cleaned in Blacktown Check The Various Factors?
How much does it cost to have the carpet steam cleaned – Cleaning the carpet is a tough job, especially for those who are occupied with their busy schedules. Dirty and dusty bacterial carpets can cause several health and hygiene problems for individuals and their family members. Therefore, getting the carpet cleaned is necessary. It is essential to get professional carpet steam cleaning done for a healthy and hygienic environment once a year at least. Numerous carpet cleaning companies in Blacktown are available to do the job. You can also acquire all resources and skills required for steam cleaning carpets but that can get costly.
Here in this blog, we have brought all details of steam cleaning carpet costs in Blacktown. Well, on average a house per room costs $250 when empty and $300 when furnished.
Countless people are worried about the cost of professional carpet steam cleaning. Due to the expense, people are not involved in the professional cleaning process. Do not ignore the dirty carpet just like that. You have to understand the value of professional carpet steam cleaning and their good impacts on your life is more important than saving a few bucks. You can get expert cleaning done at affordable rates and a quality job.
How Much Does it Cost To Have The Carpet Steam Cleaned?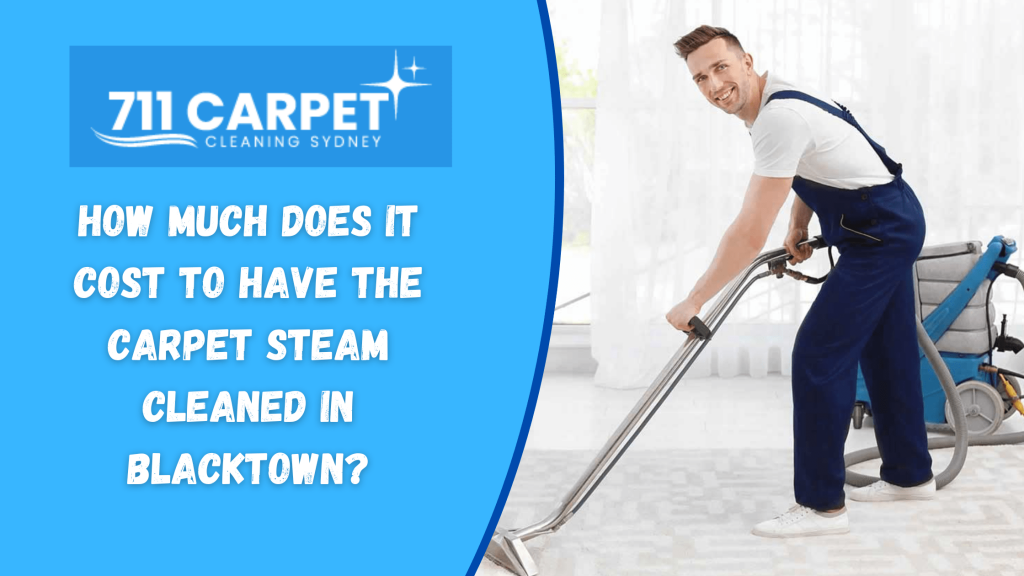 Before you make payment, we would like to explain different aspects affecting steam cleaning carpet costs in Blacktown. Read on the forthcoming details: know about different factors affecting the cost.
Steam cleaning carpet costs in Blacktown
The cost of professional carpet cleaning depends upon the carpet's condition, size, area, stains, spots, fabric type, location of the carpet, etc. It does not end here, several other factors impact the cost of carpet steam cleaning. There is no standard carpet steam cleaning cost because the exact one varies on the aspects required to cover.
Understand The Factors Affecting Steam Cleaning Carpet Costs In Blacktown
Square Foot:
Undeniably, the longer & bigger your carpet is, the more the client has to pay. The carpet area is the foremost aspect to cover for deciding on the cost of cleaning. Rest, the carpet's location and the required cleaning techniques will be considered to determine the cost of cleaning.
Condition of stains:
When the carpet is fully stained and covered with lots of stains, you need to pay more. In the case of extensive labor required for carpet cleaning, one must pay expensive costs for the cleaning process. Those stubborn stains require more advanced tools and equipment, which automatically affects the hiking cost. If you want to know steam cleaning carpet costs in Blacktown, consider the condition of the stain because it can affect the cost.
Carpet Type:
Different types of carpets are available in the market in different fabrics. If you want to know the cost of carpet cleaning, at the moment, you have to check which fabric is used in your carpet like nylon, Berber, polyester, cotton, or any other. There are some carpets, which are super easy and quick to clean. On the contrary, some have soft and fragile fabric that requires extra care for cleaning to avoid damage. So the cost depends upon the fabric of your carpet also.
Home Layout:
If the carpet is located in a hard-to-reach area or the home is equipped with lots of furniture, it might reduce its cleaning cost. The home layout affects majorly in determining the required carpet cleaning cost. Rest will be decided per room or square foot.
Carpet Damages:
If the carpet requires repairing some damages apart from steam cleaning, it will hike its cleaning cost. If the professionals have to deal with burns, tears, or discoloration, then be ready to pay more than expected. The service is not only to clean but the damage repair has also been added to the task.
Depends Upon Whom You Hire:
Multiple carpet cleaning services are available in the market. Do not trust the first, the highly paid, or the low-paid. High costing does not define their quality, and low costing is not a source to judge the quality. That is why trust the one who deserves to avail of the service. Many people are concerned about how much steam cleaning carpets cost. Do not judge by the money; ask your queries and check up on their property to identify the right option.
Location Of Your property:
When you are taking on-site services, the cost will be decided, including the transportation cost. If your location is nearby, then you might pay less. Otherwise, if your location is far away to reach, then the client has to pay more for that.
Cost of Different Types of Carpet Cleaning Process
Coming to the cost-affecting aspects, deciding which carpet cleaning process requires following up for your carpet is mandatory. There are different types of carpet cleaning done at different costs.
Dry Cleaning: Some mild detergent or cleaning products are applied over the carpet for cleansing with a rotating brush. There will be a small amount of water used for the cleaning. It is not a very costly cleaning process. It ranges from $100 to $200 for one standard room-size carpet cleaning.
Steam Cleaning: Coming on the excellent carpet cleaning process will not only clean the carpets from deep inside; but also kill germs and bacteria inside. To do the steam cleaning process; requires advanced tools and techniques for cleaning the carpets. This carpet cleaning process will cost more than expected, but it will be the most prominent one. $250 when empty and $300 when furnished are the average prices.
Bonnet Cleaning: It is a bit affordable carpet cleaning process. Meantime, it defines the upper surface of carpets only. This will extract all the dirt particles and dust mites from the surface. That's why there will not be much charge associated with bonnet cleaning. $25 to $85 per room, a $150 average price you can expect to pay for this service.
End Note: How Much Does it Cost To Have The Carpet Steam Cleaned in Blacktown
Now, whenever you seek professional carpet steam cleaning services, you can calculate steam cleaning carpet costs in Blacktown. Consider all these above-demonstrated aspects to consider the estimated cost of carpet cleaning. Rest you can save money on carpet cleaning, vacuuming it often, moving the furniture, and measuring the rooms. Ensure to regularly clean carpets and get a professional cleaning done at least once a year.