Can You Steam Clean Oriental Rugs? Here is What Professionals Are Saying
Can You Steam Clean Oriental Rugs? A daily vacuum is a great way to maintain the beauty of your oriental rug or a Persian rug in your home. You can also follow the steam cleaning method annually. It will help in getting rid of any dirt built up and pollutants that are stashing deep in the pile. You must ensure special care for your oriental rug which will extend the lifespan of your rugs. You must clean all the dust and dirt at once.
In this blog, we have discussed everything you need to know to decide "Can You Steam Clean Oriental Rugs?" People have a keen interest in steam cleaning rugs of all types. You must understand your rugs before deciding on their cleaning methods. We will see everything one by one.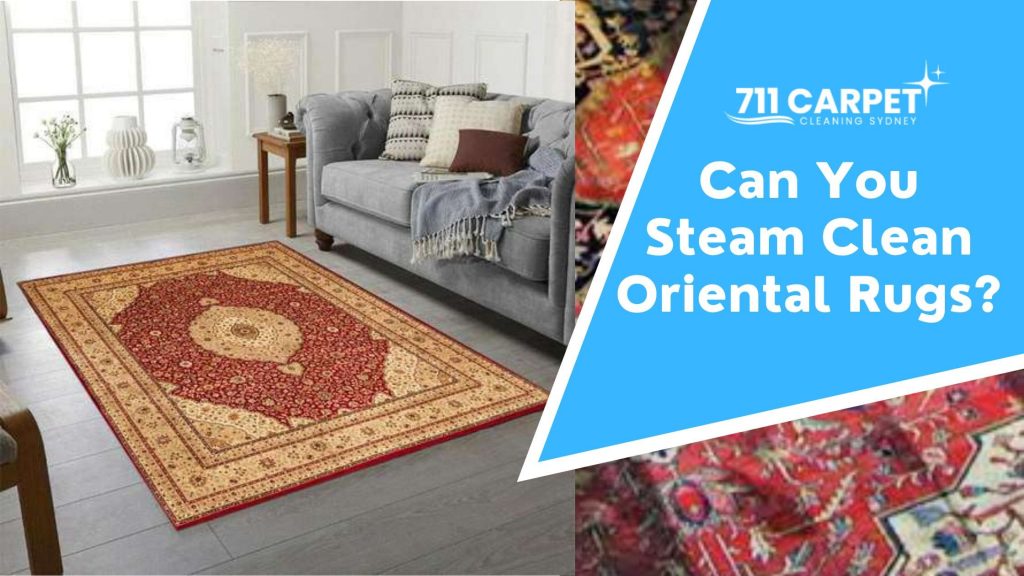 Features Of Oriental Rugs
The first thing that is true about oriental rugs is that they do not belong to oriental countries and have oriental designs. They were named centuries ago and the name has stayed. The term oriental rugs are used to describe rugs from different countries located within the eastern corridor, such as Iran( a country that produces Persian rugs), central Asia, Egypt, Turkey, India, and China.
Oriental rugs are woven entirely by hand. Then rugs that are made by machines are not the original oriental rugs even if they have the same colour or design. Only handmade rugs are called oriental rugs. There is an unmatched feature of the oriental rugs that no machine can copy the design created by the weaver. The knots are made very carefully by hand. In machine-made rugs, these knots are not knotted down.
Oriental rugs have another important feature that they are always made from raw materials. A normal original oriental rug is made up of the best quality sheep's wool. The best silk rugs were sometimes woven for royalty. Authentic oriental rugs are never woven by using synthetic material. Oriental rugs look very fine because of the perfect artwork. Even with the passage of time, these rugs will still be appreciable. The value of each rug will become more valuable and expensive.
Is It Ok To Steam Clean Oriental Rugs?
Steam cleaning for rugs is often not recommendable. Though steam cleaning is a traditional carpet cleaning method, it can cause considerable damage to antique rugs. Steam cleaning accumulates a large amount of water into your rug, where it settles down into the fibers and pockets. This water can not escape and only some homes have the capability to dry a rug properly. Leaving a wet rug or carpet can damage it with mold. A wet carpet smell will be difficult to take out of your house.
Oriental rugs, generally, are made up of natural fibers like wool, cotton, or silk. These are complex fibers with scaling that can trap both water and soil. Mixing water into your rug and leaving it to settle the water and the soil.
Steam cleaning can also make the natural dyes of your rug fade away. Hot water can cause natural fibers to lose their dyes. The colors can transfer to other parts of your rug, making them stained permanently.
Use These 5 Ways To Clean An Oriental Rug
Let us tell you Oriental rug cleaning is a specialized process. It is essential to clean and refresh your beautiful rugs. You can also bring all your floor coverings back to life again whenever by truly cleaning them. You can check the following way of cleaning your rug with expertise:
Air dust the rug to remove the surface debris.
Wash your rugs by using modern techniques and cleansing agents.
To remove excess liquid, you can use water extractors.
The controlled way of drying will allow the rug to gently remove moisture.
Cleaning intensively will restore the cords, fringes, and other borders to their original glory.
Find Your Best Local Rug Cleaning Experts
If you cannot decide on the most efficient cleaning methods for your oriental rugs, you can also hire local rug cleaning experts. 711 Carpet Cleaning is a house of cleaners for carpets, rugs, mattresses, tiles, and more. You can find with us the best technicians who have the duty of cleaning rugs. You can discuss your requirements with us today to clean your oriental rugs and other things!
Can You Steam Clean Oriental Rugs: Check Our Recent Rug Cleaning Gallery