Steam Cleaning Carpets: Prepare Your Carpets For Steam Cleaning
How To Steam Clean Your Carpet? – Carpets are the best option to use as a floor cover. Because they are softer and elegant, and give a royal look to your home. Cleaning a carpet is not fun as it requires a lot of effort and time. Steam cleaning is the best method to clean a carpet. Steam carpet cleaning in Sydney helps to prolong the life of your carpet. To steam clean the carpet effectively you must learn the art of steam cleaning carpets. To help you with this and make this process easy for all, in this blog, you must read the steps given here.
Before that, you must read some facts about this method. This will help you to realize the benefits of steam cleaning. You must understand that steam cleaning is not a standard method. It has several benefits.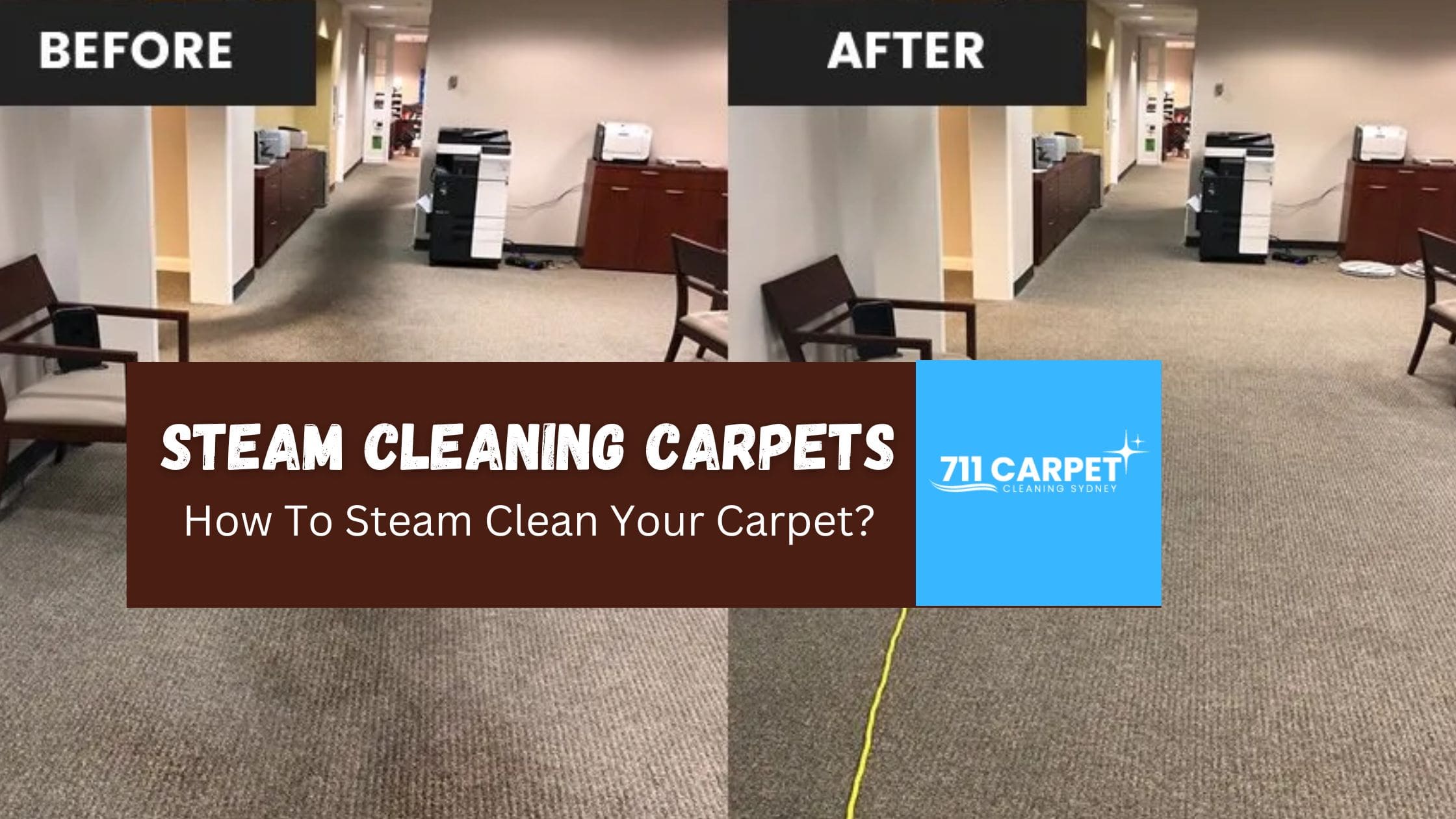 Some Facts About This Method
Steam cleaning not only cleans the dirty carpet but there are other benefits too of regular steam cleaning.
The process is environmentally friendly and chemical free. You can use safe and effective cleaners in the powerful steam cleaning machine.
You may not feel the need to sanitize your carpet after using this method.
This is the best method to make your carpets free from stains and odors.
Carpet steam cleaning is essential as it will provide warmth and increase the beauty and helps to extend carpet life.
Steam cleaning is the best way to remove hidden pollutants and allergens.
Carpet steam cleaning keeps your carpets safe from dust mite infestations and refreshes and renews the rug.
Steps To Steam Clean Carpets:
Steam cleaning carpet is a multi-step process so that you can focus on every cleaning problem in your carpet. Here are all steps you must follow to successfully complete a steam cleaning process. These steps will lead you to superb and deep carpet cleaning results. Let's start the cleaning process.
1. Prepare the Area You Will Be Working In
If you want to feel comfortable and relaxed while steam cleaning carpets then you must prepare the area you will be working in. It's really important to prepare your carpets for the next steps. Apart from this, you must make sure which things you need to steam clean the carpet. Your preparations must include managing the space for the full movement of the steam cleaning machine and keeping other things that will be used in the process. You must remove furniture and other things lying over the carpet.
2. Choose the Right Tool For The Job
Some contaminants are visible and some microscopic dust particles are invisible but need to clean. So you must choose the right tool for the job depending on various factors. The factors include carpet fabric, problems in your carpet, the oldness of your carpet, the last cleaning date, and more. With proper checks, you can select the right tool for the job. Some carpets can bear high pressure and some can't, so you must choose the tool wisely.
3. Apply Steam To The Surface Of The Carpets
You must vacuum clean before applying steam to the surface of the carpets. For applying to the surface of the carpets, you must use a steam cleaning machine. This is one of the essential acts of steam cleaning carpets. A vacuum cleaner will catch the filth, dust, and other contaminants on the carpet that you are not able to observe sometimes. You must apply the steam according to your carpet
4. Let It Sit And Dry
After applying steam to the surface of the carpets, you must wait for some time so that the steam can do its work properly. The steam will loosen dirt and stain particles you can check more on Carpet Stain Removal Tips. Further, the use of a steam cleaning machine over the carpet will remove all contaminants. After this, you must wash your carpets with water and extract the water in some minutes. Then, you can leave the carpet for drying.
5. Remove Any Stains That Remain
Before you start using your carpets, you must check and remove any stains that remain on the carpet. You may find some cleaning residues on the carpet, you can use a vacuum cleaner to remove them. Then, you must give your carpets some more time to dry properly.
Following these steps, you can steam clean carpets without any hassle. Once your carpet is ready for use you must follow some regular cleaning actions to maintain the cleanliness of your carpet.
Dos & Don'ts You Need To Follow When Steam Cleaning Carpets
If you want to proceed with carpet steam cleaning without any problem throughout the process, then you must remember these do's and don'ts when steam cleaning carpets.
Do's
Plan your cleaning day in advance to complete the process without any issues.
Bring every needed thing for cleaning and match them with your steam cleaning checklist.
Water and electricity will be needed so plan this as well.
Don'ts
Don't use powerful carpet cleaning chemicals while doing the cleaning. Because they will ruin your carpets so always use certified products while cleaning.
Many people don't have an idea but don't do steam cleaning on muggy days. If you want to use your carpets for a longer term because it reduces the lifespan of your carpet.
Don't use an immense amount of water. Hot water extraction helps you to remove the stubborn stains but if you use more then it will damage your carpet.
While doing the steam cleaning remember the above-mentioned points to avoid damage.
When Is The Right Time To Steam Clean Carpets?
1. On a warm and sunny day, steam carpet cleaning can be done -:
When left to dry on its own, a carpet that has been steam-cleaned typically takes 3–6 hours. It is best to have your carpets steam cleaned when it is warm and sunny to get quicker drying times. For that reason, it is also best to have the carpets steam cleaned when it is warm enough for you to open your windows. So, this will accelerate drying.
2. The time for steam carpet cleaning can be determined by testing a small section of carpet
While this does not occur frequently, it is good to test out a small section of carpeting. It makes sure carpet steam cleaning does not dull the color or damage the fibers. If you are already treating the smaller stains the way they came, then you still have to think about cleaning your whole carpet. If your carpet has lost its color or its original weave or just seems to get soiled immediately after being vacuumed, then it is time to steam clean your surfaces thoroughly.
3. The most effective time is when you are free
Since you need time for steam cleaning carpets, no matter the season, you should be at least free for 4-5 hours on the day of steam cleaning. You will need all the cleaning equipment in your home such as a steam cleaning machine, stain removal tools, hoses, and electric cables.
Conclusion: How To Steam Clean Your Carpet?
If you steam clean your carpets at the right time and in the right way, then you can use your carpets for a long time. You should not miss anything when steam cleaning carpets that we have discussed above to get superb cleaning results.
Sometimes, it is best to trust an experienced cleaning company to do the deep cleaning of your carpets (preferably twice per year).