If you care for your carpets and also your family, children, and pets then you must need profound carpet cleaning. Because carpets catch the bacteria, and dust that you must clean otherwise they are not good for your family's health. In this case, steam carpet cleaning is best for your carpets. In this blog, we have discussed steps to clean your carpet with steam. To ease the process, we have brought 2 Steps To Clean Your Carpet with Steam. Following this will save you time.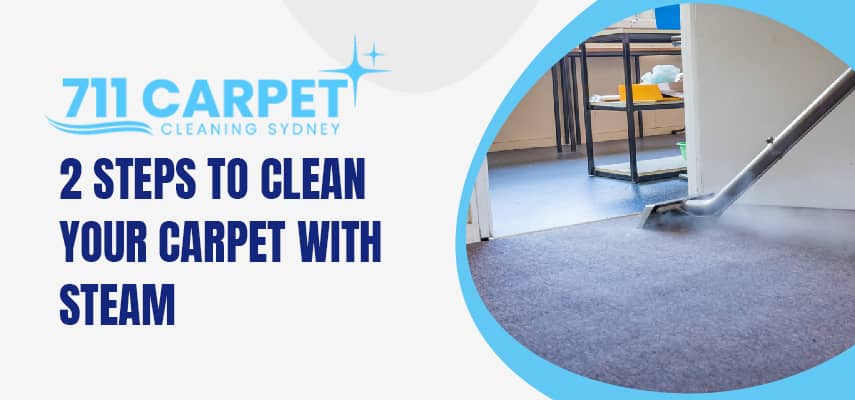 With These 2 Steps, You Can Clean Your Carpet with Steam:
Steam cleaning is one of the best and easiest methods that the majority of people prefer. The steam cleaning process includes just the steam and the water to eliminate the dust from the carpet easily. Once the carpet is cleaned, you just need to vacuum to make the carpets dry properly.
Apply Steam To The Carpet
Steam cleaning is one of the best treatments for eliminating or killing the allergens, germs, stubborn stains, and nasty odours deeply from your carpet. You have to apply the steam on your carpet with the help of a steam cleaning machine. You just have to fill the water tank in the machine, switch on the machine and set the temperature suitable for your carpet fabrics. Move it slowly or fastly as required by your carpets.
Let It Do Its Work
After applying the steam, you must give it some time so that it can do its work. It takes around 10-15 minutes to do its work. Then, you can wash your carpet and leave it to dry. You will find that your carpet has been cleaned deeply. This can remove dirt, grime, stains, odours, germs and moulds from all carpets.
It is clear from the above-mentioned process that steam cleaning is a better option in many ways.
Various reasons why steam cleaning is better than shampoo carpet cleaning:
In the shampoo carpet cleaning process, water is used the same as the steam carpet cleaning service. But with shampoo, this aids to release the dust on the above surface of the carpet before you scrub the carpet. Also, in the shampooing process, you just do not wash your carpet with hot water. But you need to make sure that you must remove the moisture also from the carpet. Because drying is just not the solution if you do not remove the moisture then it can damage your carpet.
Eventually, there is not much to do in steam cleaning; it's really easy to do the process without any extra effort. You must do the carpet steam cleaning method rather than making so much effort with the shampooing process.
Another advantage of steam carpet cleaning is that you can free yourself from the eggs of insects during this process because of the great temperature. Steam and shampoo cleaning techniques both are powerful. However, there is a great dissimilarity between the two processes. In steam cleaning, you just use the steam and water and you are simply done with the process. When you are doing a shampoo cleaning process then you have to use chemical cleaners to release the dirt from the area and eliminate it.
In steam and shampooing both processes there is a usage of water in the process to clean the carpet however shampooing utilises plenty of moisture. Due to this reason, it takes 48 hours at least to dry once after the shampooing process. On the other hand in steam cleaning, there is less usage of water. It takes less time to dry the carpet.
The Truth About Steam Carpet Cleaning
You must take good care of your carpets. For that, you need to be open to using the recommended methods of cleaning. If you are looking forward to Clean Your Carpet with Steam then there are a few things you need to work upon. Just understand the truth about the same.
Steam cleaning doesn't hurt the environment
It is important to note that there has to be dependence upon steam cleaning. This is because it can clean the carpet well with minimal dependence upon harsh chemicals. When your carpets become greasy and oily and dirty, you will have to take up steam cleaning. This method will ensure that you get the best solutions.
The steam cleaning method makes the carpet look new
With the help of steam cleaning, there will be a new look to the carpet. This is something you need to keep in mind. When you feel that your carpet has become soiled or it is looking like an old one then you ought to use steam cleaning as the best solution. With steam carpet cleaning there would be so many things that you can get ahead with.
Steam cleaning can help you remove mould
There's one more benefit of using steam cleaning for the carpets and this is going to be good for you. When you see mould on the carpets there will be a bad sight and this can also affect health conditions. It is therefore vital that you get ahead with cleaning the mould pretty well with the help of steam cleaning.
The cleaning process includes minimal moisture
You will see that there will be minimal moisture and this will help you to make the carpets dry quickly. Having dirty carpets at home can put your health to risk. There are many methods, but out of them all, you will see that steam carpet cleaning is one of the most effective methods.
You can find carpet cleaning professionals who will help you with steam cleaning. Some people would clean the carpets from the comfort of their homes with a home steamer. There are other methods that one can use.
Conclusion:
The reason why most people believe that steam cleaning should be taken up is that it is a cost-effective solution. Most professional carpet cleaners would take this method up. They have heavy-duty steam machines and hence they can make your task super easy. If you are tempted to do this at home, make sure that you use the right way to steam clean your carpets. Be open to trying the best solutions so that you have the right way. Moreover, professionals for steam carpet cleaning can be a great option for sure. Read our carpet cleaning experts tips & advice about How To Remove Stains From Carpet: 12 Professional Tips